PTP is the only one offering this complete Deluxe performance valvebody kit, we want our customers to be able to save some money and still get the benefits of a performance transmission, without having to tune the vehicle. 



45-68RFE DNJ Deluxe Valvebody Performance Kit includes:
3 valvebody to case seals

Sonnax torlon checkballs
Includes new OEM solenoid pack 
OEM filters
DNJ billet thread insert:   Replaces the plastic thread insert, with a steel insert, no move filter coming loose and a loss of movement. 
Transgo .453" switch valve and reamer:  Helps fix the dreaded P0868 O/D kill code (reamer can be sent back for a refund)
**If you have the early model valvebody with the .420" bore, please see note at the bottom. **
Sonnax billet accumulators:  Replaces the plastic pistons, with upgraded billet pistons, moves the area of contact up and away from the original wear area. 
Transgo's Tuneless Shift kit:  Includes new thicker accumulator plate that will not flex, and new O/D tuff snap ring that will not break, HD O/D pressure plate for added clutches in the O/D pack (14 single sided clutches instead of 12), new steel self cleaning low/reverse switch valve, new thick valvebody gaskets, and triple layer separator plate, and springs and valves for the pump to allow for 200psi without a transmission tune.  **Removal of transmission is necessary for installation of this product**
DNJ billet channel casting:  The DNJ billet channel casting eliminates cross leaks by stopping the flex, and replaces the factory channel plate that is known to crack and cause premature O/D failure.  You have to stop the flex!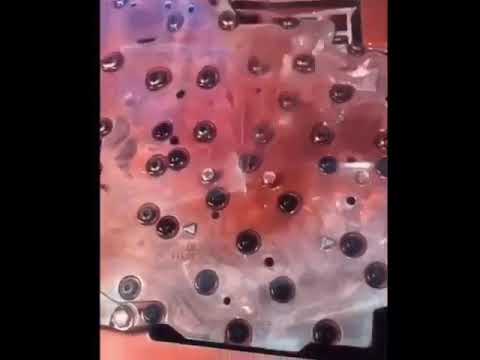 68RFE Valvebody testing - YouTube
Video will open in a new window
Using the eBay App? Paste link into a browser window:
[isdntekvideo]
The bonded separator plate, or plate with gaskets, will not stop the factory channel casing from flexing, warping, and even cracking!
This plate is THE FIX for the 68RFE Transmission!
 We will refund you $50, for the .453" reamer kit, once the reamer is returned in good working condition.
**If your valvebody has a switch valve bore of .420", you must specify at checkout, because this kit will not work for you.  We can send you the .420" Transgo reamer kit, and you will also receive a refund of $50 when you return it in good working condition.