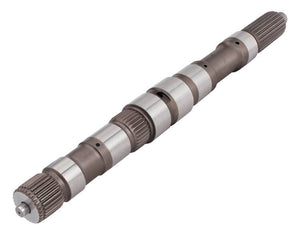 Sonnax heavy duty intermediate shaft 22171B-HD is a direct replacement upgrade for Chrysler 47RE, 47RH and 48RE transmissions. OE shaft failure is common as power levels are increased and in long-distance towing applications. The Sonnax shaft is specially heat-treated and processed for maximum strength and resistance to fracture, making it the ideal upgrade for most high-horsepower street, competition or towing applications.
This shaft features many unique refinements available only from Sonnax, including a torsional design that allows energy to be absorbed, reducing peak loads to critical areas.
For the ultimate protection against breakage in competition applications, Sonnax extreme duty intermediate shaft 22171B-08K is recommended.
Patented modifications to lubrication channel increase lube flow to prevent gear train meltdown
Torsional design dissipates peak stress
Rolled splines for increased durability
Manufactured from 300M ultra high-strength steel for maximum strength and resistance to fracture