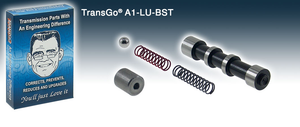 Fits 2001-2003 Allison 1000-2000 Pump assembly
Includes A1-LU-BST Hot Rod Allison Lock Up Valve assembly
A1-LU-BST Hot Rod Allison Lock Up Valve addresses Torque Converter slip under Heavy Duty/Race conditions. Significantly increases Lock Up oil pressure with (2) optional springs. We recommend this part for Race use only!
Installation recommendation: Experienced technician
Transmission removal necessary: Yes


This will produce a much firmer apply of the torque converter!