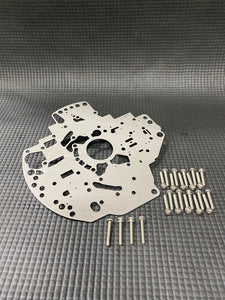 NEW UPDATED VERSION: Now .075" thick and includes longer bolts!  The 4 longer bolts go around the center of the pump, and the rest of the bolts are longer than the orignal facory bolts.
DNJ has redesigned the pump plate to correct and improve lube problems that some of the OEM plates faced.  Lube oil was being dumped and causing the transmissions to overheat when being worked hard. 

This one plate, fits all 45/545, 65, 66 and 68RFE transmissions.  Makes it possible to replace the pump plate, without having to replace pump assembly, which previously was the only way to get a replacement plate.
We carry the full line of DNJ products. Please feel free to contact us with any questions.
We will also soon be adding the full line of TWISTER Kits for all your performance diesel transmission needs.