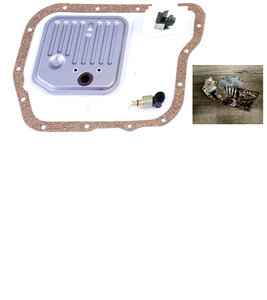 This is kit is designed for the DIY person!   Everything you need to drop the pan and upgrade to the more reliable GM solenoid.

Kit includes:
Pan gasket
Filter (plastic OEM style filter)
Governor sensor, 96-99 Rostra round governor sensor, or the 00-up Rostra HP governor sensor
And of course, the DNJ GM conversion kit!!!
Please specify what year model, so we know exactly which sensor you will need 
Torque specs:
T25 filter bolts= 25 inch lbs
1/4" GM conversion kit bolts= 106 inch lbs
Pan bolts= 110 inch lbs
You will need at least 6-8 quarts of ATF+4 to refill the transmission. 
Put 6 quarts back in the transmission before you start it.

Secure vehicle so that it can not roll, and remember to check the fluid level with vehicle idling in neutral.