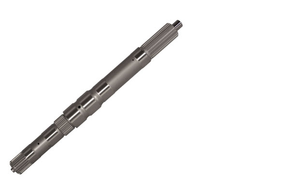 A518, A618, 47RE & 48RE Intermediate Shaft.
Made for Performance Dodge Diesel Applications!
Designed for high torque & heavy towing  applications.
The shaft is precision machined and ground from 300M steel and heat treated for superior surface toughness and durability. 

This shaft is made for high torque engines and is an ideal replacement part to satisfy the demands for extreme off-road service and high performance applications. 

Spline machined with large blended radius to reduce common fractures associated with the OEM version.

Much stonger than the O.E.M. intermediate shaft
This shaft is good up to a 1000HP on a street driven truck, if you use your truck for any kind of competition and have big HP, then the 129700M would be more suited for you!