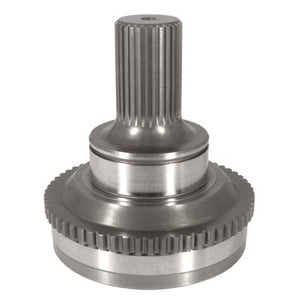 TCS offers the extra heavy duty 4X4 output shaft for the Dodge Cummins diesel truck market. 
Perfect for those 47/48 swaps in place of the 68RFE!
Increased shaft diameter from 1.230" to 1.480" for 20% additional strength.

Output shaft is made from 9310 Vacumelt high strength billet steel.

The radius has been increased to further protect areas prone to stress fractures.

This shaft is designed for "EXTREME" service and performance applications.
NOTE: This shaft MUST be used with a 29 spline input gear 05086311-AA from NV 271 transfer case. Input must be shortened, see instruction below. 
This shaft is designed to work directly with the 271/273 tcase that fits behind the 68RFE. 
PTP421670D is the part number for the 29 spline input shaft for the 271/271D transfer case.  Cost is $90.52, contact us is you need to add this to your order.